We are Happy to announce we'have been future on Houzz with
Pro Spotlight:
3 Ways to Add a Luxe Touch to Your Home
A Miami designer offers tips for creating interest and high-end style
Who: Natalia Neverko
Where: Miami
In her own words: "Your home's design showcases your tastes, preferences and personality."
Whether you're moving into a new home or remodeling your current one, the experience offers an ideal opportunity for custom interior design. "You can transform your dreams into a truly unique reality," designer Natalia Neverko says. As the founder and principal of her eponymous Miami design firm, Neverko provides a wide range of design services, from planning and concept development to purchasing and installing materials.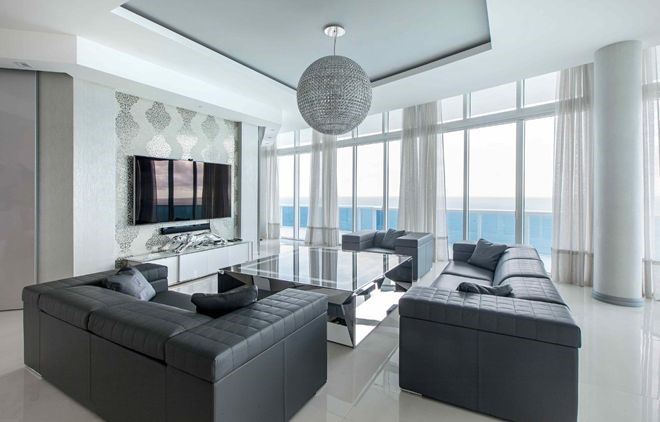 Architectural perspective. Neverko's design career began with art school. After getting an intermediate degree in interior design and a bachelor's degree in architecture, she went on to study and work in Poland and Italy. She then moved to Miami and, after honing her skills at respected architectural and design firms, started Natalia Neverko Design.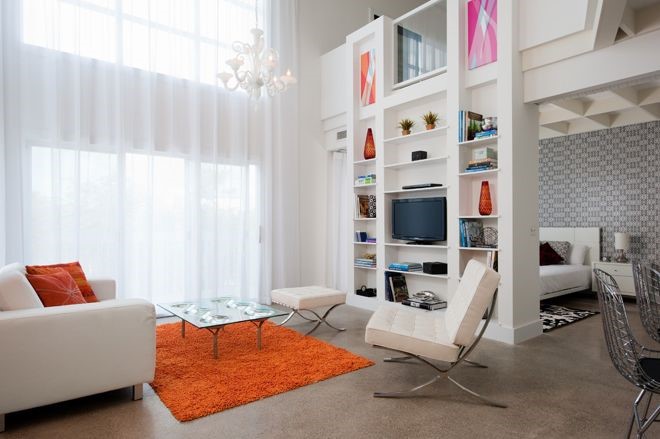 Eclectic design. If you're crazy about contemporary style but your spouse is more comfortable with the classics, don't worry; mixing and marrying styles can result in dramatic solutions to design challenges. For couples with different tastes, for example, Neverko suggests combining modern furnishings and lighting with one area that showcases a more traditional style. "Eclectic design works when you make the overall design harmonious," she says.
Ready to make an adventurous design statement? Read Neverko's tips below for achieving luxurious drama and beauty in unconventional ways.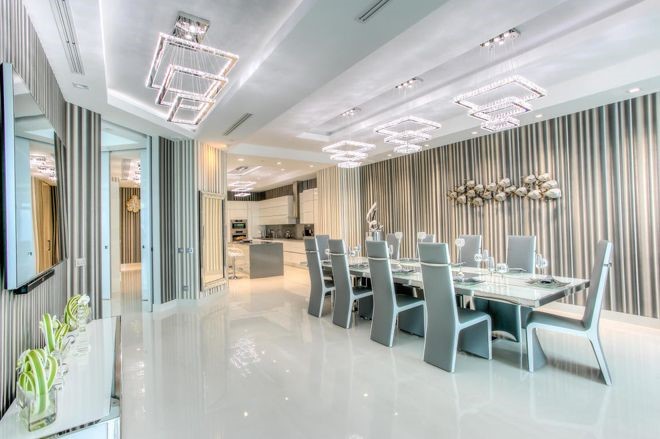 1. Draw From Your Architecture
Look for inspiration in the shape of a room or in a design element such as a ceiling soffit or unique stairs. "You want to go beyond applying colors and fabrics," Neverko says. "You might want to construct a wall first, or remove one. Each room has a unifying concept, but when taken as a whole, all the rooms talk to one another."
In this oceanfront penthouse in Hollywood, the team installed rectangular chandelier lighting in both the kitchen and the dining room, seen here. "The kitchen is a somewhat closed space, and this lighting opened up the ceiling," Neverko says. "This element repeats in the dining room, connecting the two rooms."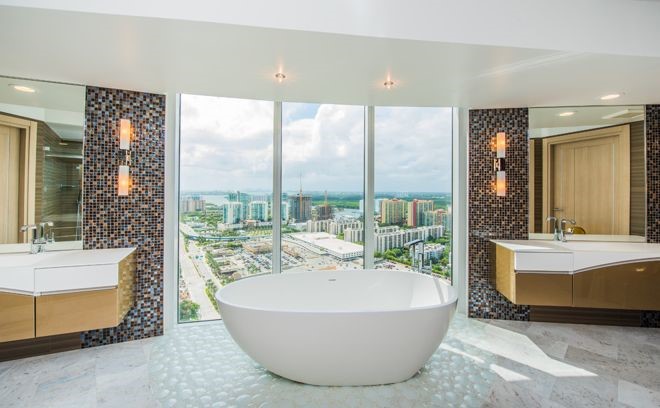 2. Use Unusual Accents
You've probably used accessories such as drapes, pillows, rugs and artwork to create a focal point. You also can use paint, wallcoverings and even flooring to draw the eye. Neverko likes to use tile to create an accent wall or floor to redefine the shape of a room, emphasize a certain area or connect the room with an adjacent one.
In this colorful ocean-view bathroom in Sunny Isles Beach, Neverko set the freestanding tub on an oval of white, bubble-shaped floor tiles. "It looks like the bathtub is floating in a sea of bubbles," she says. "The accent further emphasizes the panoramic view because you are surrounded by water inside and out."
October 15, 2017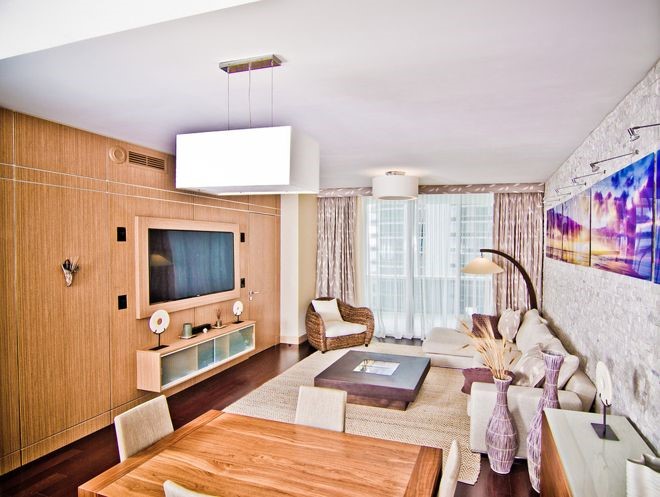 3. Incorporate Natural Materials
If you're inspired by nature, bring natural materials into your home. For paneling and cabinetry, choose wood with interesting grain. Use natural stone for floors and walls. Rugs made of textured wool or linen, and wallcoverings made of natural fibers, provide a look that's both inviting and airy.
For instance, Neverko used natural stone and wood paneling, along with lightweight linen draperies, in the beach-style design of this oceanfront apartment in Sunny Isles Beach. "You have cool, neutral colors, but also warmth from the textures," she says. "This is an example of how you can blend modern and natural design elements."